Viaggi a Cavallo
LINEA VERDE OTRANTO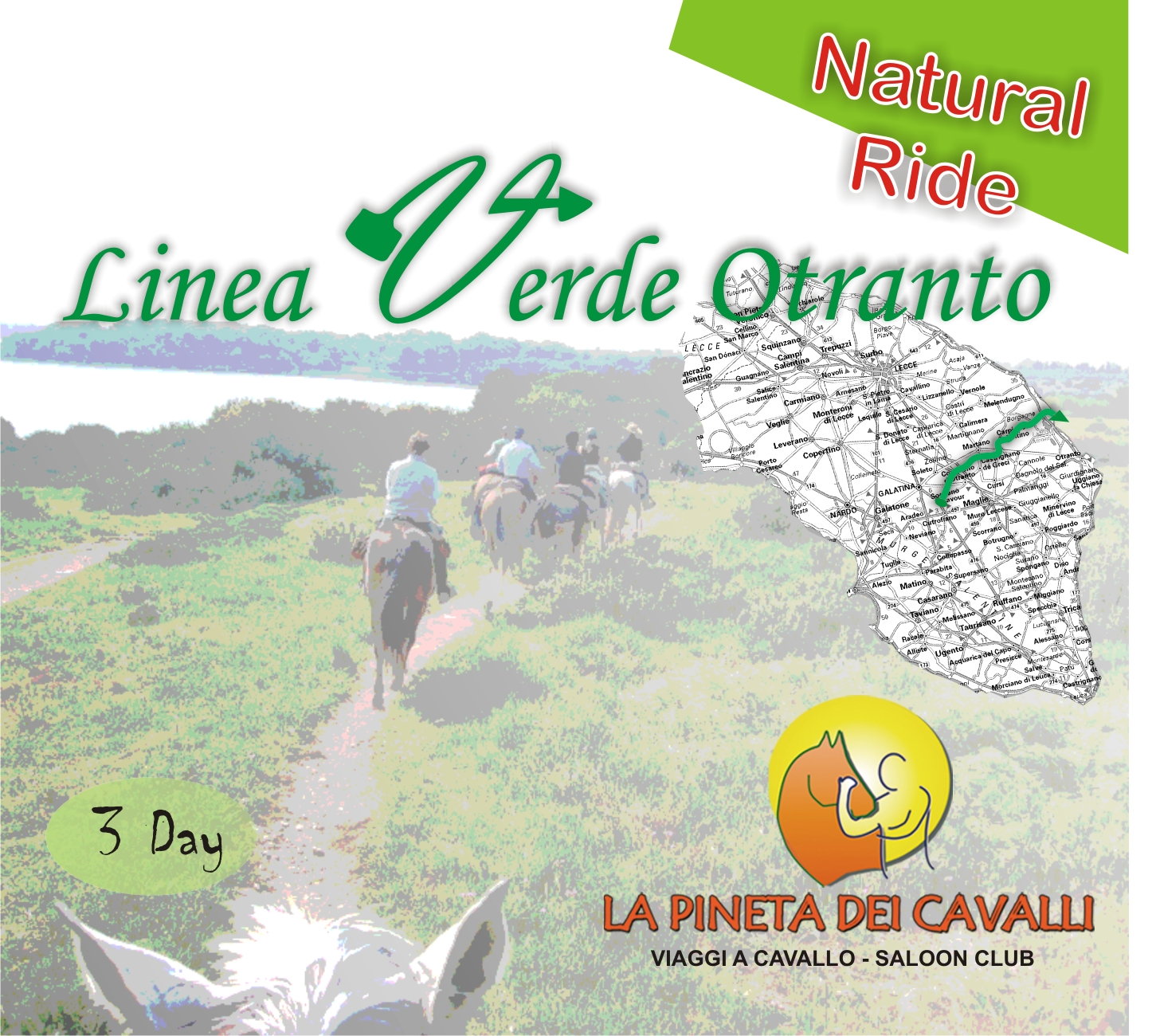 Travel:
Pinewood of Sogliano Cavour – Lakes Alimini Otranto
Duration, Km and landscapes:
3 days – about 80 km; 7/8 hours per day on horseback;
2nd day also bathing at the beach during summer periods (not on horseback).
Characteristic rural landscape of Salento between ancient towers and farms, forests of conifers and Mediterranean bush, lakes and pristine sea.
Difficulty:
Average
Breaks, accommodation and meals:
Accommodation for 2 nights at partner farms and all-inclusive meals.
Itinerary:
1 day
08:00 am Preparation for Horses
09.00 Departure from the Pinewood of the Horses
12:30 approximately, Stop coffee in the park of "Pozzelle" in Castrignano dei Greci
passing through Masseria "Torre Cumirri" (ancient building of 1800) Corigliano d'Otranto.
About 13:30, Packed lunch
3:30 pm We leave again through Masseria "L'Organo", Masseria "Giammanigli near", ancient church of "Santa Marina di Stigliano" and its surrounding forest, of Mediterranean vegetation and other characteristic places.
18:30 Arrival at an agreement farm, accommodation horses and assignment of accommodation or tents.
In the evening, tasty group Salento dinner, fun and rest!
Day 2
Program:
09:00 am Preparing Horses
10:00 Hike through the Alimini Lakes and pine groves of the beaches of Otranto
13:30 approximately, lunch in the woods and stop with the possibility of bathing not on horseback (bathing on horseback allowed only in the months from October to early April)
4.30pm, Return to the farmhouse passing through paths of Mediterranean scrub
In the evening, dinner with music and entertainment.
3rd day
08.00 am Preparing Horses
09.00 Departure to return to "La Pineta dei Cavalli" along tourist route with stops and packed lunch.
Is required:
– Preparation and training on horseback;
– Riding / Trekking clothing, personal pocket waterproof,
– swimsuit (in summer season), evening jacket;
– Flexibility and adaptability;
– Will of adventure and group spirit.
– Other additional equipment required is described in the travel adherence format that you can request from info@lapinetadeicavalli.it
Offered services:
Horse and all good quality travel gear, accommodation for 2 nights, lunch and dinner breakfasts, trailer service, vet and farrier in the area, shuttle service.
For information on the cost of travel with private horse send a request to: info@lapinetadeicavalli.it
Departure for each date with a minimum of 4 Riders / Amazons.
Download and fill out the registration form then send it to: info@lapinetadeicavalli.it
GOOD FUN….
Linea Blu Gallipoli
2 or 3 days on horseback
Route: Sogliano cavour – Gallipoli
Difficulty: Medium
Planning trip – OPENING: APRIL 2011
STAY AT: In Programming.
costs:
The price at the end of the page is intended for the trip of 2 days
For those who want to book the trip for 3 days, please send a request via E-Mail to: info@lapinetadeicavalli.it
Download and fill out the Registration Form, then send it to: info@lapinetadeicavalli.it
South West Line – Porto Selvaggio Natural Park
In planning